From Shukul:
For the month of February I had been invited to India by Dr Nandita Shah, founder of SHARAN (Sanctuary for Health and Reconnection to Animals and Nature) India to give some talks and workshops on why Plant Based Nutrition is the best solution for peoples health. SHARAN is a wonderful Not for Profit Organisation in India whose vision is a diabetes free India.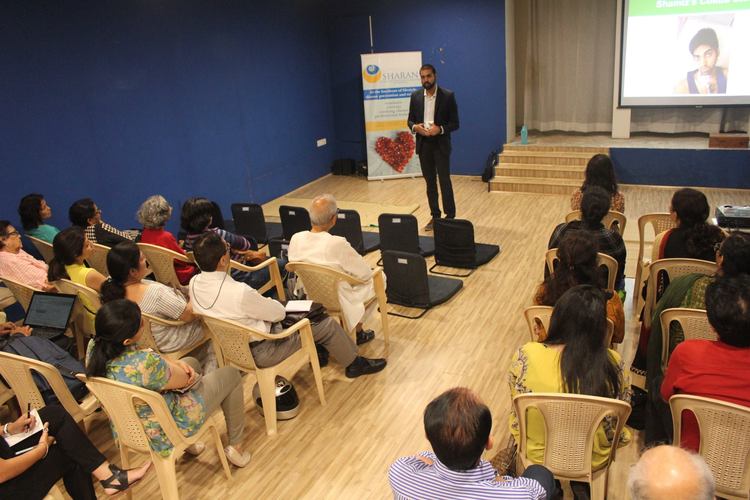 My program consisted of giving talks in Mumbai and Pune, talking about disease prevention and reversal via a whole foods plant based lifestyle rather than relying on medications, and my area of expertise, digestive health. I also conducted a cooking class with the help of one of the SHARAN associates, Reyna Rupani and showed people how to make healthy and delicious food without the use of oil, sugar or any refined products.
I was able to explain to people how to prevent and even reverse our most common chronic diseases such as Heart Disease, Diabetes and even common cancers such as of the breast, prostate and colon. In my digestive health workshop we discussed how to reverse chronic digestive disorders such as Crohns, Ulcerative Colitis, IBS and IBD. The audience was always amazed at the power of correct nutrition and that they now had the ability to prevent and reverse these common conditions! Health is really in your hands.
India has an extremely large vegetarian community. So the majority of people I spoke with did not eat meat! Therefore the main focus was on the harmful effects that cow's milk has on the human body. We also showed the audience a video on how cows are treated in India. It is truly horrible what goes on in the industry over here. One of the many actions that shocked me was that they put chilli powder in the cow's eyes, if the cow will not follow directions. Quite a number of people were crying as they realised the harm that occurs to these beautiful creatures. In India, the cow is considered sacred, yet India is the largest exporter of beef in the world!
The programs were a hit! I was able to speak to over 300 people during the 7 events that I ran over 2 weeks. A lot of the people were amazed that the truth about the harm caused by animal products to their health was not commonly known, and many people told me that they felt they had been lied to their whole life. During the cooking class, we made eight dishes including Thai Massuman Curry, Raw Cookies, Mexican Bean Salad and a Raw Cheesecake without any oil and completely from whole plant foods. Everyone was so pleased when they found out that healthy food is also delicious!
What I have seen is that awareness of Plant Based Nutrition is truly on the rise everywhere. The truth cannot be hidden forever! There are exceptional people everywhere spreading the message of love and compassion is so many ways, whether it be from the angle of animal rights, health or the environment and in many cases all 3 at once! When people hear a message presented in a logical and informative way, their perception changes and we get a shift in consciousness.
So many people told me after the events that they were going to make changes to their lifestyle and this gives me hope for the future. The animals need us, the planet needs us and we need to look after our health. Plant Based Nutrition offers us a viable solution to all 3 of these issues. We just need to reach more people in a manner that connects with them so that we can impact more positive change.
I feel more inspired than ever after my trip to India. I would like to thank Dr Nandita Shah and the whole team at SHARAN India for giving me the opportunity to share this information with so many people. I definitely recommend you have a look at their website www.sharan-india.org for lots of great information on Veganism and health, as well as some incredible Indian recipes!
I am very much looking forward to using the information I learned from SHARAN to deliver some similar programs here in New Zealand. Keep an eye out for them on our Facebook page High Carb Health and see you next time for the next edition of High Carb Health Talk.
High Carb Health are Natural Health and Holistic Nutrition Practitioners. Our aim is to give people realistic advice on how to get healthy and reverse illness via a scientifically proven, nutrition based approach to healing the body. Our goal is to provide long term, lasting solutions. We do not believe in quick fixes and our approach is far more effective in promoting health and preventing disease than prescription drugs, surgery, vitamin and herbal supplementation, and genetic manipulation. We provide education and coaching to help our clients transition to a healthier lifestyle, which also has the added benefit of assisting the body to reach its ideal weight. Fill in our Health Survey for a free 30 minute consultation.